The Charter (hi-res image)
Dublin Core
Title
The Charter (hi-res image)
Description
High-resolution image of the charter
Publisher
Temple University Libraries
Text Item Type Metadata
Text
The Temple College of Philadelphia Charter
In compliance with the requirements of the act of the General Assembly of the Commonwealth of Pennsylvania entitled an act to provide for the Incorporation and Regulation of Certain Corporations approved the twenty ninth day of April Anno Domini one thousand eight hundred and seventy four and its supplements the subscribers twelve of whom are Citizens of this Commonwealth having associated themselves together for the purpose of supporting an Educational Institution intended primarily for the benefit of working men and being desirous of becoming Incorporated agreeably to the provisions of the said act do hereby declare set forth and certify that the following are the purposes objects and conditions of their said association for and upon which they desire to be Incorporated
Article I
The name of the Corporation shall be The Temple College of Philadelphia
Article II
The purpose for which the Corporation is formed is the Support of an Educational Institution intended primarily for the benefit of Working Men
Article III
The place where the business of the said Corporation is to be transacted is in Philadelphia Pennsylvania
Article IV
The Corporation is to exist perpetually
Article V
The Corporation has no capital stock
Article VI
The names and Residences of the subscribers are as follows:
 

William S. Reed 2010 N.13th St.
 
Jeremiah M. Keffer 2031 N. 8th St.
Grant C. Osborne 1921 Park Avenue
 
Charles M. Davies 1518 Herbein Avenue
Charles H. Pascoe 330 N. 8th St.
 
Richard G. Oellers 2006 N.13th St.
Alexander Henderson, 1813 Marshall Street
 
William Zindel 1420 N. 13th St.
Edwin F. Merritt 1020 W. Dauphin St.
 
Mahlon L. Warne 931 N.10th St.
Henry K. Thompson, Jr. 2006 N. 12th St.
 
John Baumgartner 1420 Chestnut St.
Austin W. Bennett 1035 West Dauphin St.

Article VII
The Corporation is to be managed by a Board of Trustees consisting of Thirteen members the names of those chosen Trustees for the first year are as follows:



William S. Reed 2010 N. 13th St.
 
Jeremiah M. Keffer 2031 N. 8th St.
Grant C. Osborne 1921 Park Avenue
 
Charles M. Davies 1518 Herbein Ave.
Charles H. Pascoe 330 N. 8th St.
 
Richard G. Oellers 2006 N. 13th St.
Alexander Henderson 1813 Marshall St.
 
William Zindel 1420 N. 13th St.
Edwin F. Merritt 1020 W. Dauphin St.
 
Mahlon L. Warne 931 N. 10th St.
Henry K. Thompson Jr. 2006 N. 13th St.
 
John Baumgartner 1420 Chestnut St.
Austin W. Bennett 1035 W. Dauphin St.


all of whom reside in the City of Philadelphia
Witness our hands and seals this twenty eighth day of March A D 1888
William S. Reed (Seal)
Jeremiah M. Keffer (Seal)
Grant C. Osborne (Seal)
Charles H. Pascoe (Seal)
Richard G. Oellers (Seal)
Alexander Henderson (Seal)
Edwin F. Merritt (Seal)
Mahlon L. Warne (Seal)
Henry K. Thompson, Jr. (Seal)
Charles M. Davies (Seal)
Austin W. Bennett (Seal)
J. Baumgartner (Seal)
William Zindel (Seal)
Commonwealth of Pennsylvania County of Philadelphia
Before me the subscriber George G. Pierce Recorder of Deeds of the County of Philadelphia personally appeared William S. Reed Henry K. Thompson and Austin W. Bennett three of the subscribers to the above and foregoing Certificate of Incorporation of The Temple Collage of Philadelphia and in due form of law acknowledged the same to be their act and deed Witness my hand and official seal this twenty ninth day of March Anno Domini one thousand eight hundred and Eighty Eight
Jas. K. Fletcher (Seal)
Deputy Recorder of Deeds
In the Court of Common Pleas No. 1 for the City and County of Philadelphia of March Term 1888 No.
And Now this twelfth day of May A D 1888 the within Charter and Certificate of Incorporation having been presented to me a Judge of the said Court accompanied by due proof of publication of the notice of this application as required by the act of Assembly and Rules of this Court in such case made and provided I Certify that I have examined and perused the said writing and have found the same to be in proper form and within the purposes named in the first class specified in Second section of the act of the General Assembly of the Commonwealth of Pennsylvania entitled an act to provide for the Incorporation and Regulation of Certain Corporations approved April 29th 1874 and the supplements thereto and the same appearing to be lawful and not injurious to the community do hereby on motion of Edwin D. Hoffman Esquire on behalf of the Petitioners order and direct that the said Charter of The Temple College of Philadelphia aforesaid be and the same is hereby approved and that upon the Recording of the same and of this order the subscribers thereto and their associates shall be a Corporation by the name of The Temple College of Philadelphia for the purposes and upon the terms therein stated.
Joseph Allison (seal)
Judge
Recorded May 14, 1888 at 10.35
Files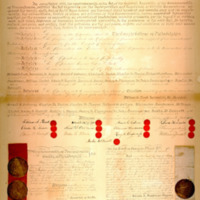 Collection
Citation
Russell Conwell, "The Charter (hi-res image)," Digital Exhibits, accessed May 26, 2019, http://gamma.library.temple.edu/exhibits/items/show/288.
Social Bookmarking