pt030209_clip.gif
Text Item Type Metadata
Text
French Baron Aiding Loan Unmasked As Son Of German Held By U.S.
Spectacular Career as Boy Scout Salesman for Fourth Liberty Bonds Ends With Lad's Departure From City.
The Baron de Buderus von Carihausen, alias Herman Buderus, after a spectacular career as a Boy Scout salesman for the fourth Liberty Loan and for war-savings stamps, has left Philadelphia. His departure was speeded by Boy Scout officials, who said yesterday they believed the Baron to be an imposter.
Instead of having a murdered French father, the Baron has a live German as his parent. To add to the perplexities of the situation the father is now interned in an American camp as a dangerous enemy alien.
Instead of suffering all sorts of hardships at the hands of the Germans, the Baron has had nothing more interesting in his career than a discharge from a Newark shipyard because Department of Justice agents unmasked him as a German.
These were the points revealed yesterday by Boy Scout officials in charge of the fourth Liberty Loan here. George I. Bodine, who heads the Boy Scouts committee; Dr. Charles D. HArt, head of the Boy Scouts in the city, and John Getz, Jr. Scout executive, confessed they had been fooled by the young man. They said the Baron had come
to them with credentials from the New York Liberty Loan committee and the War Savings committee of Philadelphia.
The young man was energetic, and he had imagination. The story he told was that he was a baron from Alsace-Lorraine, the Germans had killed his father and the Germans had tortured the lad, cutting his arm muscles so that he would be unfit for military service. All he wanted was a chance to sell bonds, and otherwise prove himself a good American.
Every one believed his story. The Liberty Loan publicity committee saw to it generous mention of the boy was made in the newspapers.
But a week ago the baron was told to go. Mr. Bodine became suspicious, he said, and wrote to New York officials of the Boy Scouts. James E. West, head of the Boy Scouts in America, replied that the baron was not a Boy Scout, that he had been discharged from the shipyard and that his father had been interned.
The boy had paid his own expenses, and no fault was found with him except that he was not what he represented himself to be, Mr. Bodine said.
Denial was made at the War Savings committee headquarters that any one there had sponsored the youth. The boy gave his age as seventeen, but officials believe he is older.

Text with article photo:

The Baron de Buderus von Carlhausen AKA Herman Buderus, with the "The Hun - his Mark" Poster.
Files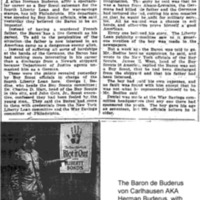 Citation
"pt030209_clip.gif," Digital Exhibits, accessed May 26, 2019, http://gamma.library.temple.edu/exhibits/items/show/555.
Social Bookmarking