pt140243_clip.gif
Text Item Type Metadata
Text
Housewives of U.S. Asked to Save Food. Two Million Canvassers Seek Signatures to Pledges to Help Win War. President Makes Appeal.
(by Associated Press)
Washington, Oct. 29—Food pledge week got actively under way today with a half million canvassers throughout the country getting pledges from 22,000,000 homes for the observance of the Food Administration's directions and advice in food economy, which President Wilson has endorsed.
With effective enrollment of families to save food throughout the war, the United States will be able to export all the meat, wheat, fats, and sugar its allies in Europe need to enable them to maintain their fighting strength.
Lord Northcliffe, head of the British Mission in the United States, placed the situation before the American people as follows:
"The greatest food experts on both sides of the Atlantic say there is a world shortage of food. The boys who are enduring the hell of the trenches for our sake cannot hold out if badly fed. The situation which we have to face right now, in this food pledge week, is obvious.
"The stay at homes must save, that the soldiers may get their vital needs, or the soldiers must go short so that the stay at homes may fatten. You cannot have it both ways, and must make your choice."
Belgian Minister de Cartier, citing that America for many months has kept Belgium from starvation, said the effort in which every nation Allied against Germany is expending its every ounce of strength will succeed or fail, according to whether the peoples and their armies have the food needed to maintain their strength and their spirit.
"America must supply by far the greatest portion of this food," he said. "It is a grand conception, worthy of the ideals and traditions of the greatest Republic, that this food shall be supplied by the voluntary effort of the individual citizens.
The President, in a statement supporting the food pledge campaign, said last night:
"To provide an adequate supply of food, both for our own soldiers on the other side of the seas and for the civil populations and the armies of the Allies is one of our first and foremost obligations, for if we are to maintain their constancy in this struggle for the independence of all nations we must first maintain their health and strength.
"The solution of our food problems, therefore, is dependent upon the individual service of every man, woman and child in the United States. The great voluntary effort in this direction which ahs been initiated and organized by the Food Administration under my direction offers an opportunity of service in the war which is open to every individual, and by which every individual may serve both his own people and the people of the world.
Files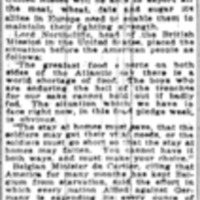 Citation
"pt140243_clip.gif," Digital Exhibits, accessed May 26, 2019, http://gamma.library.temple.edu/exhibits/items/show/585.
Social Bookmarking