pt140295_clip
Text Item Type Metadata
Text
Don't Drink Ships!
Are you shocked to see the lady drinking ships? You drink ships every time you use sugar unnecessarily, in a beverage.
Seventy-five per cent of the sugar used in this country has to be brought here in ships. Every possible ship is needed for the transportation of troops and supplies to the other side.
Eliminate sugar as a luxury, and you release many ships for war purposes.
Teach your appetite to remember this—
DON'T DRINK SHIPS.
Files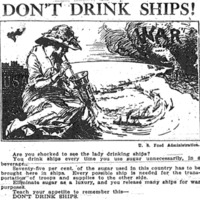 Citation
"pt140295_clip," Digital Exhibits, accessed May 26, 2019, http://gamma.library.temple.edu/exhibits/items/show/587.
Social Bookmarking