My Prayer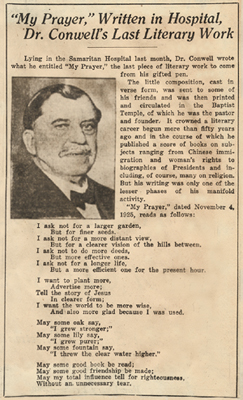 "My Prayer," Written in Hospital, Dr. Conwell's Last Literary Work.

Lying in the Samaritan Hospital last month, Dr. Conwell wrote what he entitled "My Prayer," the last piece of literary work to come from his gifted pen.
The little composition, cast in verse form, was sent to some of his friends and was then printed and circulated in the Baptist Temple, of which he was the pastor and founder. It crowned a literary career begun more than fifty years ago and in the course of which he published a score of books on subjects ranging from Chinese immigration and women's rights to biographies of Presidents and including, of ocurse, many on religion. But his writing was only one of the lesser phases of his manifold activity.
"My Prayer," dated November 4, 1924, reads as follows:

I ask not for a larger garden,
But for finer seeds.
I ask not for a more distant view,
But for a clearer vision of the hills between.
I ask not to do more deeds,
But more effective ones.
I ask not for a longer life,
But a more efficient one for the present hour.

I want to plant more,
Advertise more;
Tell the story of Jesus
In clearer form;
I want the world to be more wise,
And also more glad because I was used.

May some oak say,
"I grew stronger;"
May some lily say,
"I grew purer;"
May some fountain say,
"I threw the clear water higher,"

May some good book be read;
May some good friendship be made;
May my total influence tell for righteousness,
Without an unnecessary tear.