Smedley Darlington Butler (1881-1940)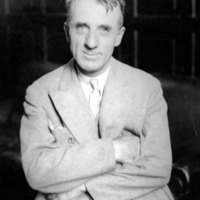 A famous Marine General from West Chester, Pennsylvania, Smedley Darlington Butler was invited, in 1924, by Mayor W. Freeland Kendrick to become Philadelphia's Director of Public Safety. Butler was charged with the unenviable tasks of enforcing probation and curbing widespread police corruption in the city. During his two years in Philadelphia, Butler failed to eliminate bootlegging and police corruption, but he failed in spectacular fashion. The fiery Butler took his duties very seriously; far more seriously, it would soon become apparent, than did most of the other officials in the city. Butler was a politician's nightmare, publicly and profanely airing his grievances with numerous city officials, including Kendrick. The Mayor and City Magistrates responded by backing Butler's crusade with little more than half-hearted lip service.
Butler took immediate steps to strengthen his control over the police department, reducing the number of police districts and centralizing appointments within his own office in order to reduce the ability of magistrates to select the members of the force in their ward.   He also greatly increased the number of officers on duty.   In addition, "Old Gimlet Eye" ordered well over 1000 raids on speakeasies and gambling houses and attempted to shut down all illegal breweries operating in Philadelphia.   When Magistrate Edwards Carney complained that Butler only harassed the drinking establishments of the working class, Butler responded by ordering raids on the Beaux Arts, The Stenton, The Ritz-Carlton, and the Bellevue-Stratford Hotels. He stripped the Bellevue of its dance license and began padlock proceedings against the Ritz-Carlton.
In December 1925, Butler announced that he was resigning from the Marines in order to devote himself full time to "cleaning up" Philadelphia. Kendrick promptly fired him, and replaced him with his far less flamboyant assistant director George Elliott. Butler returned to the Marine Corps after a barbed public speech in which he said, "I have been fighting in a battle where the head of the show was disloyal and everything was crooked. The Mayor hasn't bossed me. He can fire me but he can't bluff me, I've still got my self respect."