National Service
"Even at the height of mutual hatred, when the normal compassions had virtually disappeared, it still seemed not quite right to show the enemy actually dying. Killing people, when you got down to pictures of it--even if it was the enemy, even if only on posters--was somehow wrong."

- Maurice Richards, Posters of the First World War

The emblem of the National Service, the government body responsible for administering British conscription, is stamped on the poster.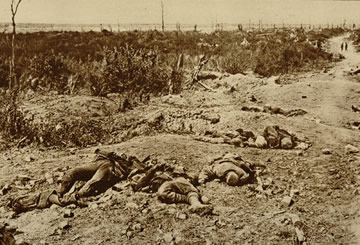 A group of German Soldiers lying on a battlefield near Moislains, France

The War of the Nations Portfolio (New York: The New York Times Co., 1919), 143.