I Want You for the Navy
Howard Chandler Christy was a popular artist who first made his name producing drawings for Scribners and Leslie's Weekly during the Spanish-American War, when he went to Cuba with American troops.

This poster features one of his famous "Christy Girls."

Christy went on to create "The Signing of the Constitution" mural in the Capital Rotunda in Washington, DC.

Although this enlistment poster was clearly aimed at men, the U.S. Navy was the first to approve the enlistment of women. In March of 1917, the first group of women officially enlisted to serve in the military. The women were called yeomen (F), the "F" indicating the recruit was a female.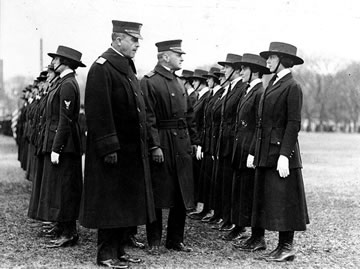 Yeomen (F) being inspected by Rear Admiral Victor Blue (left center), Chief of the Bureau of Navigation, on the Washington Monument grounds, Washington, D.C., in 1918

Photo courtesy of the U.S. Naval Historical Center Web site.