Stenographers! The Kaiser is Afraid of You!
Many women answered the call of this poster and arrived in Washington ready to do their part. Once there they often faced poor living conditions, long work hours, and unrealized expectations about an improved status for women workers.

"Three or four occupied a room intended for one, and few young women had a bed to themselves."

"Much of the exuberance I felt upon my arrival has vanished and the novelty of Washington is wearing away."

--Josephine Lehmann, stenographer for the Ordnance Department, 1918-1919.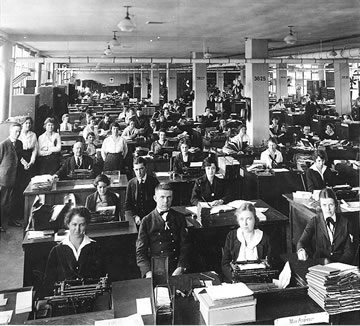 Navy Yeomen (F) and other military and civilian personnel in a Navy Department office in 1918 or early 1919.

Photo courtesy of the U.S. Naval Historical Center Web site.