Remember Belgium
Germany violated Belgian neutrality in 1914. Scholarly debate continues on the extent to which German soldiers committed the many atrocities attributed to them during this period.

This poster was used to promote the buying of American war bonds during the Fourth Liberty Loan, September 28 - October 19, 1918.

The German Imperial Chancellor admitted in a Reichstag speech that Germany disregarded international law in invading Belgian territory. Belgian diplomatic papers to this effect are included to the left.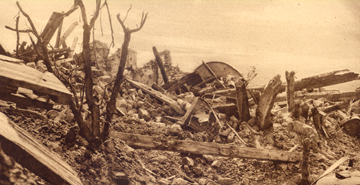 The ruins of a Belgian fort after being destroyed by German siege guns

The War of the Nations Portfolio (New York: The New York Times Co., 1919), 129.

A letter between two Belgian diplomats in August 1914 relays that the German Imperial Chancellor has admitted that Germany disregarded international law when it invaded Belgian territory.



Diplomatic Correspondence No. 35.
Baron Beyens, Belgian Minister at Berlin, to M. Davignon, Belgian Minister for Foreign Affairs.
Berlin, August 4, 1914.

Sir,

I have the honour to transmit to you herewith a translation of part of the speech made to-day in the Reichstag by the Imperial Chancellor on the subject of the infamous violation of Belgian neutrality:--

"We are in a state of legitimate defence, and necessity knows no law.

"Our troops have occupied Luxemburg and have perhaps already entered Belgium. This is contrary to the dictates of international law. France has, it is true, declared at Brussels that she was prepared to respect the neutrality of Belgium so long as it was respected by her adversary. But we knew that France was ready to invade Belgium. France could wait; we could not. A French attack upon our flank in the region of the Lower Rhine might have been fatal. We were, therefore, compelled to ride roughshod over the legitimate protests of the Governments of Luxemburg and Belgium. For the wrong which we are thus doing, we will make reparation as soon as our military object is attained.

"Anyone in such grave danger as ourselves, and who is struggling for his supreme welfare, can only be concerned with the means of extricating himself; we stand side by side with Austria."

It is noteworthy that Herr von Bethmann-Hollweg recognises, without the slightest disguise, that Germany is violating international law by her invasion of Belgian territory and that she is committing a wrong against us."

The World War I Document Archive, (26 Mar. 2003).
A variation of this poster appeared in a Liberty Loan advertisement by the Packard Motor Car Company. It ran in the October 6, 1918 edition of the The North American, during the Fourth Liberty Loan drive.