Fourth Liberty Loan
"From an artistic point of view there is no doubt that Joseph Pennell carries off the honors as usual. He is a celebrated lithographer as well as an artist of national reputation, and is well-known throughout the club and social life of Philadelphia. His poster shows the Statue of Liberty trembling under a German shell-fire and silhouetted against a lurid sky indicating the blazing ruins of the city of New York. To an American who knows the famous Statue of Liberty in New York Harbor as an emblem of all that liberty means to free people, the poster gives a distinctive shock, which is accentuated by the wording which Mr. Pennell has placed under the picture."

- The Philadelphia Press, Sept 22, 1918.

"Joseph Pennell's masterly interpretation of what will happen to New York, and the country, if the Hun is not overthrown, is one of the greatest designs ever accepted by this government to arouse the people of the United States to the seriousness of the situation confronting them if they are determined that 'Liberty Shall Not Perish From the Earth.'"

- Philadelphia North American, Sept 22, 1918.


"'No we're not selling them,' said the older man. 'We're just asking you why you haven't bought one.' The voice was persuasive and ominous.
Miranda began to explain that she had no money, and did not know where to find any, when the older man interrupted: 'That's no excuse, no excuse at all, and you know it, with the Huns overrunning martyred Belgium.'
'With our American boys fighting and dying in Belleau Wood,' said the younger man, 'anybody can raise fifty dollars to help beat the Boche.'
Miranda said hastily, 'I have eighteen dollars a week and not another cent in the world. I simply cannot buy anything.'
'You can pay for it five dollars a week,' said the older man (they had stood there cawing back and forth over her head), 'like a lot of other people in this office, and a lot of other offices besides are doing.'
Miranda, desperately silent, had thought, 'Suppose I were not a coward, but said what I really thought? Suppose I said to hell with this filthy war? Suppose I asked that little thug, What's the matter with you, why aren't you rotting in Belleau Wood? I wish you were. . .'"

- Katherine Anne Porter, Pale Horse, Pale Rider. Porter's alter-ego, Miranda, a young newspaper reporter, confronts loan workers during the Fourth Liberty Loan drive, October, 1918.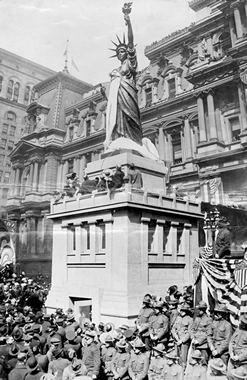 A replica of the Statue of Liberty was created in front of City Hall in Philadelphia to further Liberty Loan subscriptions, April, 1918.

George D. McDowell Philadelphia Evening Bulletin Collection, Temple University Libraries, Urban Archives