Join the Brave Throng that Goes Marching Along
Of the 42 million men mobilized by the Allies, 22 million, or 52%, became casualties (dead, wounded, missing, or prisoners).
Russia - 76% casualty rate
Britain - 36% casualty rate
France - 73% casualty rate
United States - 8% casualty rate
You shall not hear their mirth:
You shall not come to think them well content
By any jest of mine. These men are worth
Your tears: You are not worth their merriment.
--Wilfred Owen, from Apologia Pro Poemate Meo, 1917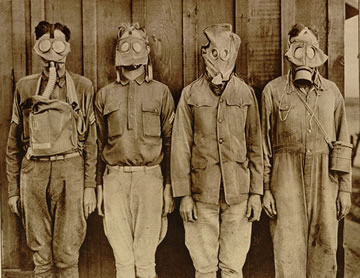 Various types of gas masks in use in different armies

The War of the Nations Portfolio (New York: The New York Times Co., 1919), 154.