Sugar Means Ships
This United States entered World War I in 1917 after Germany announced it would begin unrestricted submarine warfare, attacking merchant ships regardless of country of origin. These attacks resulted in shortages of food, equipment and supplies.

1917 gross tonnage of world merchant shipping lost: 6,235,878 tons

Grand total gross tonnage of world merchant shipping lost until Nov. 11, 1918 (end of the war): 12,850,814 tons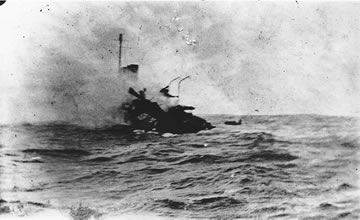 The destroyer USS Jacob Jones sinking off the Scilly Islands, England, on December 6th, 1917, after she was torpedoed by the German submarine U-53. The ship had been performing anti-submarine patrols and convoy escort work out of Queenstown, Ireland since May.

Photo courtesy of the U.S. Naval Historical Center Web site.
Poster images sometimes appeared in newspapers in a slightly altered form. This example ran in Philadelphia's African-American weekly, the Philadelphia Tribune on Sat. October 12, 1918. Note the simplification of the city images to the left of the woman, and the addition of "U.S.A."