American Field Service
Prior to the United States' entry into the war, some Americans volunteered as ambulance drivers on the Western Front.

Many of the American Field Service ambulance drivers were graduates of Ivy League colleges. Highly regarded writers such as Ernest Hemingway, e.e. cummings, and John Dos Passos were among those who served in the corps.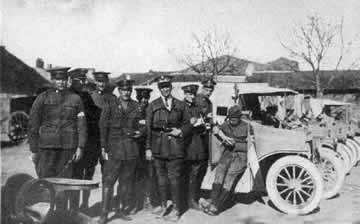 Drivers of the American Field Service

Photo courtesy of the Photos of the Great War Web site.
Used with permission.