Look out for this kind of American(?) Citizen
German-Americans during the Great War faced unwarranted discrimination in the United States. Some examples of anti-German sentiment include:

the banning of Beethoven's music in Pittsburgh, Pennsylvania

the burning of all books and materials written in German or about Germany at a school in Marysville, Nebraska

the pasting of blank sheets of paper over the songs "The Watch of the Rhine" and "The Lorelei" in school music books by teachers in Columbus, Ohio

"[Woodrow Wilson] had gone on in late 1915 and 1916 to launch a broad attack against so-called hyphenated Americans. 'There are citizens of the United States, I blush to admit,' Wilson told the Congress in his third annual message, 'born under other flags but welcomed under our generous naturalization laws to the full freedom and opportunity of America, who have poured the poison of disloyalty into the very arteries of our national life. . . . Such creatures of passion, disloyalty, and anarchy must be crushed out. . . . [T]he hand of our power should close over them at once.'"

- David M. Kennedy, Over Here: The First World War and American Society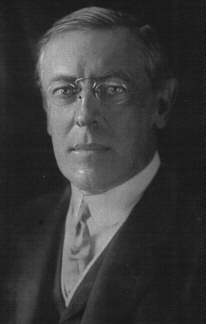 President Woodrow Wilson

Photo courtesy of the Photos of the Great War Web site.
Used with permission.
This item, from the October 7, 1918 edition of The Philadelphia Press is representative of a particular type of "news" story common during the war--short on attribution and documented facts, long on claims, pejorative terms and opinion. It is true that Germany conducted numerous espionage activities in the United States during World War I, beginning long before America's direct involvement.