Blot it Out with Liberty Bonds
"The sense of total vulnerability on the part of (Belgian and French) civilians was intensified by two features of German behaviour. On the one hand, German violence towards civilians appeared to be random. On the other hand, once set in motion, it often seemed to proceed systematically according to a plan. . .. Since German actions were motivated by the belief that the army had faced civilian hostility, the 'reprisals' were driven by high emotion which was volatile and unpredictable. . . How the violence unfolded, however, appeared to be anything but accidental. Rounding up the inhabitants in the public square or church, separating man and boys from the women, children and old, proceeding to collective executions and deportations, trailing the inhabitants for days on a forced march, or exposing them to fire as a human shield all suggested a predetermined policy."

- John Horne and Alan Kramer, German Atrocities, 1914: A History of Denial

"The Great War was, as a Schwarzkopf or Saddam might put it, the mother of all bullshit. Received ideas were manufactured. France and Belgium, the reluctant hosts to the Western Front, became the scene of millions of now forgotten falsehoods, either spun deliberately by the military and the governments and their press, or created by fantasts sitting idly in their trenches. The First World War can be said to have ushered in the industrialization of the lie. . .. The French called the flood of lies 'le bourrage de crane' (skull cramming). German papers told of how the French had dumped typhus into the water supplies of Frankfurt. French papers explained how German corpses smelled fouler than French ones. . .. In a time when the truth was obscene, the well spring of rumor never ran dry."

- Stephen O'Shea, Back To The Front: An Accidental Historian Walks the Trenches of World War I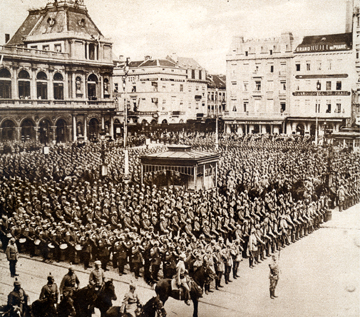 German troops parade in captured Brussels early in the war.

The War of the Nations Portfolio (New York: The New York Times Co., 1919), 372.
The following story concerns the true identity and fundraising activities of Herman Buderus. It appeared in the Philadelphia Public Ledger on Tuesday, October 15, 1918. To read the boy's story as he was promoting it, see the PDF version of a large feature story that appeared in the same newspaper only two days previous, as part of the Sunday supplements.