How Much to Save These Little Lives?
"There are few more mournful spectacles than a town or village lately reduced to ruins. The ruins of antiquity leave one cold. The life that they once harbored is too remote to excite our sympathies. But a modern ruin is full of tragedy. You see the remains of the furniture, the family portraits on the wall, a child's doll seated forlornly on a chair, a little figure of the Virgin under a glass case. In the middle of the little square is a little iron bandstand, and you can almost see the ghosts of the inhabitants walking up and down, laughing, chatting, and quarreling, with no sense of disaster overshadowing them. You wonder what became of them."

- Donald Hankey, A Student in Arms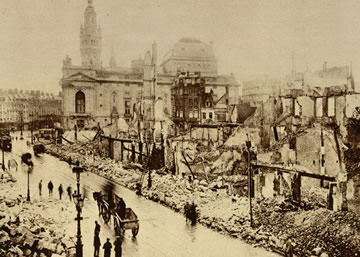 Dixmude, on the Belgian front

The War of the Nations Portfolio (New York: The New York Times Co., 1919), 405.