Second Liberty Loan of 1917
The Second Liberty Loan took place October 1 through October 28, 1917. The liberty loan campaigns marked the first time that the average worker was asked to be an investor. The newness of this concept caused confusion among that population; therefore, a clarification of the meaning of "interest paid" was incorporated into this poster for the Second Liberty Loan.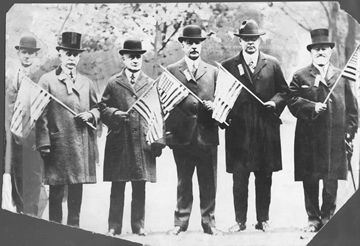 Local dignitaries carrying American flags in a Second Liberty Loan parade in Philadelphia, October 1917.

George D. McDowell Philadelphia Evening Bulletin Collection, Temple University Libraries, Urban Archives.