German Slavery or Liberty Bonds
"As early as June 1916, and again in the lame-duck 64th Congress in February 1917, Attorney General Thomas Gregory had proposed legislation to punish espionage and to curtail freedom of speech and the press. On both occasions Congress refused to pass the bills. Then, on the evening of April 2, even as the applause for Wilson's speech faded from the corridors of the Capitol, Representative Edwin Webb of North Carolina and Senator Charles Culberson of Texas moved quickly to arm the President with the tools of 'stern repression' for which he had called in his war address. The bills they introduced that momentous evening differed little from the proposals that had failed twice in the preceding year. But the war crisis quickly spurred Congress into action. Ostensibly aimed at checking espionage and treason, the Webb-Cullberson legislation sought to vest the government with power to accomplish three objectives: censorship of the press, punishment of any interference with the activities of the armed services, including recruitment; and control of the mails to prevent their use for the dissemination of allegedly treasonable material."

- David M. Kennedy, Over Here: The First World War and American Society

"Four Liberty Loan gates, built in imitation of railroad crossing gates, have been placed on the four corners of Broad and Chesnut sts. as a warning to pedestrians that it is dangerous to pass unless they have subscribed for one or more bonds.
The gates are about ten feet in length and painted black and white. At each will be stationed a young woman Liberty Loan worker armed with a "Stop" signal. This she will display to all who do not wear Liberty Loan buttons or who are unable to produce credentials signifying that they have invested in one or more bonds.
The gates, which are not intended to be raised or lowered, stand on square wooden bases, weighted down by heavy sand bags."

- Philadelphia Evening Bulletin, October 22, 1917, p. 2.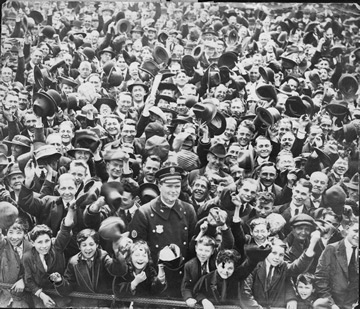 A patriotic rally at Independence Hall in Philadelphia, April, 1917.

George D. McDowell Philadelphia Evening Bulletin Collection, Temple University Libraries, Urban Archives.