Victory Liberty Loan
The Victory Liberty Loan took place from April 21, 1919 to May 10, 1919.

It was difficult to ask Americans to reach into their pockets one more time to support a war that had already ended; however, many American soldiers remained overseas. The poster depicts a man who is happy to give once again; the buttons on his overalls signify that he has financially supported each Liberty Loan Campaign.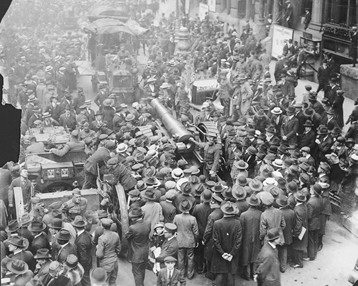 Victory Loan Drive, Philadelphia, May 1919

George D. McDowell Philadelphia Evening Bulletin Collection, Temple University Libraries, Urban Archives