Victory is a Question of Stamina
Herbert Hoover was appointed head of the United States Food Administration. Citizens' efforts to conserve food were known as "Hooverizing".

The need to ship non-perishables overseas was a particular problem in that Americans would have to be convinced to alter their eating habits. Sayings such as "Food will win the war" and "Don't eat less, waste less" became commonplace.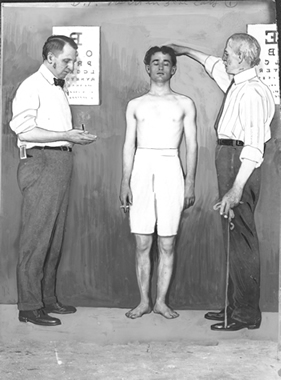 A draftee undergoing a physical examination, 1917.

Philadelphia Evening Bulletin, July 20,1917 (Temple University Libraries)
Appeals to the general population were sometimes made directly from the highest office. This article appeared in the Philadelphia Evening Bulletin on October 29, 1917.